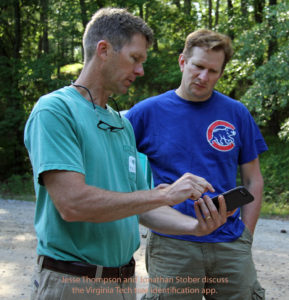 Walk and Talk 05/20/2017: Trees at McIntosh with Jesse Thompson
In introducing Jesse Thompson, consulting forester with Forest and Real Estate, Inc., Jerry Stober explained that they both had visited an area at McIntosh Park in the woods near the entrance to see if any longleaf pines planted several years ago by FOMR had bolted. None were found but two still remained in the grass stage. It was clear that the area had not been burned in several years and many sweet gum trees were invading the small open area. Without a regular fire treatment and elimination of the young sweetgum trees one cannot expect a longleaf pine seedling to bolt and grow. Any effort to plant additional longleaf seedlings in the park would have to be supported by park management with fire and physical removal of understory competition by sweetgums and other small trees to enhance openings to increase light penetration to the forest floor.
Prior to beginning the walk and talk Dr. Stober called attention to some recent research on the eastern forest reported that week. A researcher in Indiana using US Forest Service data on some 80 species of trees showed that the eastern forest has moved about 25 miles to the northwest over the last 30 years. This was consistent with the increased drying in the southeast (Georgia and Alabama) and the increased rainfall in the northwest (upper Mississippi and Ohio River valleys) due to our changing climate. Species of oaks and maples are sprouting more successfully in the northwest and showing less success in the southeastern part of the forest.
The Walk and Talk with Mr. Thompson took us on an easy and level walk in a circle beginning on the big field and circling by the river around Council Bluff to the old Hawthrone tree and back to the field. While we concentrated on tree identification, we also attended to any spectacular blossoms or critters along the way or to woodpecker damage to old tree trunks. Mr. Thompson pointed out the best clues for differentiating closely related species and what he knows of the most frequent uses, including for wildlife. For example, he noted that the acorns of the red oak take two years to mature while those of the white oak take only one. We learned that Carroll County is in the quarantine district for the Emerald Ash Borer, meaning that potentially infected ash trees, logs or firewood should not be moved from the area. The ash borer larvae girdle the tree from the inside, cutting off the flow of water and nutrients.
Mr. Thompson shared his favorite identification books and apps with us: The Virginia Tech tree identification App, The USDA Forest Services Agricultural Handbook 654, and Core and Ammons "Woody Plants in Winter". Jesse W. Thompson can be contacted at [email protected] or 770-317-5235.
Please visit the Photos to view pictures of this event.